Bhaiyuji Maharaj, fed up with life, wrote the lesson of suicide, peace be upon him
---

Dhayuji Maharaj allegedly committed suicide by shooting himself. According to information, Bhaiyu ji shot himself in the house, where he died on the spot. Immediately after the incident, his servicemen took him to Indore's Bombay Hospital where he was declared dead. Bhaiyu ji came for the first time in a national discussion when he played an important role in the negotiation to end Anna Hazare's movement.
Shot right on the right side
Indore Police told CSP Jayant Rathore that Dhayyaji Maharaj shot himself in his own house in Silver Spring. He was shot on his head. At the same time, according to a doctor of the Bombay Hospital, he had died just half an hour before he was brought to the hospital. He was shot on the right pavilion.
Who were you
Born in 1968, the original name of Dhayyaji Maharaj is Udai Singh Deshmukh. They belonged to the zamindar family of Shujalpur. He was the first fashion designer and later turned towards spiritualism. They had also modeled for advertising a brand of clothing. His house at Bapat intersection in Indore. From here, he used to conduct the functions and social activities of his Sadguru Datta religious trust.
Family of Dheoyaji Maharaj
Madhavvi, the first wife of Dhayyaji Maharaj, has died in Pune in November 2015. From Madhu, she had a daughter, whose name is Kuhu, who is currently studying in Pune. Bhayyaji Maharaj had married the second marriage with Dr Ayushy of Shivpuri in Madhya Pradesh on April 30, 2017. Ayyshi has been dedicated to services in his ashram for many years.
Smt. Sumitra Mahajan, Lok Sabha Speaker, paid tribute to Shri Dhiyu Maharaj.
"It is not believed that Bhayyuji Maharaj was no longer among us, as a spiritual teacher, a social worker and a thoughtful personality, he worked extensively for the change in society and for improvement.
Through its institution "Sunrise", he tried to bring a new light in the society. They had special concerns for Banjara community. A large number of people coming to their ashram were from remote villages of Maharashtra.The people used to come here with a hope and take a belief. Among those who came here were the big names of public life. He is distressed to go unmally in this manner.
I pray to God that he will give peace to the departed soul and give his followers and their families the power to bear this unbearable pain. Honorably tribute to Shri Dheoyaji Maharaj on my behalf
Devotees of Bhayyaji Maharaj included celebrities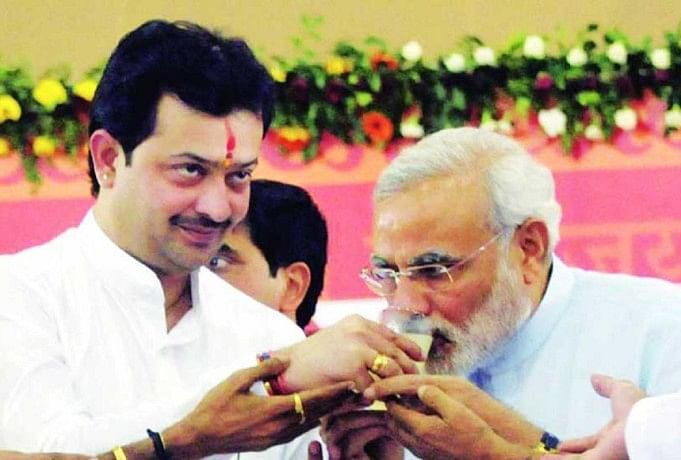 Bhayyaji Maharaj scope was very big
Bhayyaji Maharaj proved his reach in every field. Bollywood's glamor, Bollywood or the game of politics or the field of social service, they made their presence everywhere. At his ashram, a very special saint used to come. His devotees included many well-known celebrities.
Many big politicians, industrialists, film personalities, singers and celebrities have come to their ashram. These include popular names like former President Pratibha Devi Singh Patil, Prime Minister Narendra Modi, Shiv Sena President Uddhav Thackeray, MNS chief Raj Thackeray, Lata Mangeshkar from the Sun, and Bollywood's famous singer Asha Bhosle, Anuradha Paudwal, film actor Milind Gunaji.
When the headlines came in, Bhayoyaji Maharaj
For the first time, Bhayyaji Maharaj came to the headlines when in 2011, the UPA government sent Bhayyaji Maharaj as his ambassador with the promise of announcing Anna Hazare's fast unto death and accepting his demands. Anna broke his fast by drinking juice from the hands of Bhayyaji Maharaj. At that time, he was accompanied by former Maharashtra Chief Minister Vilasrao Deshmukh.
Bhaiyaji Maharaj had also opened his fast by spreading the juice of the then Gujarat Chief Minister Narendra Modi when he was sitting on goodwill fast.
---
---